A cleaner environment never tasted so good!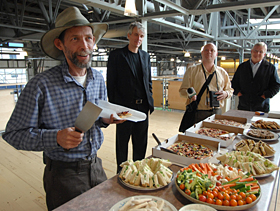 We are all becoming more and more aware of the role that supporting local and sustainable farming has in reducing air pollution and greenhouse gases. But what about the places that sell the farmers' food? When the largest farmers' market in Halifax outgrew its old location and looked toward building a new one, reducing energy consumption and lowering air emissions was the top item on its menu.
The Halifax Seaport Farmers Market, in Halifax, Nova Scotia, has geothermal and solar heat, heating the building without CO2 emissions or fossil fuel use. One of the largest green roofs in North America cools the building without air conditioning, and grey water systems reduce water consumption. As much thought and care went into the building that houses the market as the production of the many delicious foods and products that are sold inside, making the market a true gem on the Halifax waterfront and a model in environmentally-focused design that can be used by communities around the world.
Technical Paper

(PDF:44k)