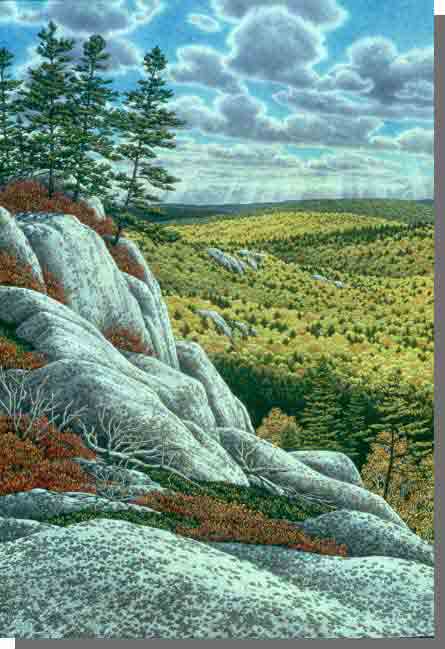 Waverley-Salmon River Long Lake Wilderness Area is a rugged wilderness of lakes, barren hills, and pockets of old-growth pine and hemlock, located in the backyard of the Halifax Regional Municipality, and guardian of part of its drinking water supply.
In the south of the wilderness area, chains of pristine lakes, rivers, and wet forests traverse gullies between high granite ridges, while in the north, a subtle ridge and swale pattern trends northeast on Meguma group quartzite and slate bedrock.
Elevated granite ridges and slopes support well drained coniferous forests, with red spruce, white pine, fir, and hemlock, some in immature old-growth condition. Old fire scars create high exposed granite barrens with pockets of lichens, woody shrubs, and stunted jack pine. Grey granite cliffs drop off steeply to narrow gullies, hosting wet, hummocky black spruce - balsam fir forests. Old-growth pine stands occur on some lakeshores, and in isolated pockets are rare, pure stands of old-growth hemlock. The northern part of the wilderness area is dominated by bogs and damp, hummocky coniferous forests, with fens along slow- flowing watercourses.
The watershed of Lake Major, water supply for the former city of Dartmouth, and part of the 75-year old Waverley Game Sanctuary, overlap with the western portion of the wilderness area. The area is a recreational treasure in the backyard of the population centre of the province. Granite ridges of the south provide outstanding panoramic views and excellent destination points for rugged wilderness hiking. Abundant connected lakes and rivers provide over 30 kilometres of canoe routes into the remote interior.