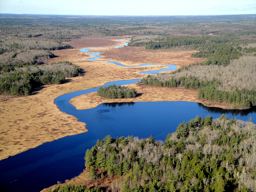 Silver River Wilderness Area protects one of southwestern Nova Scotia's preeminent wilderness rivers. It consists primarily of a wide corridor stretching along 30 km of Silver River, through the interior of Digby and Yarmouth counties.
Silver River is one of the main branches of the Tusket River system. It flows through a biologically rich landscape of conifer forest, hardwood hills and drumlins, and numerous lakes. This is in marked contrast to the less productive lands found in nearby Tobeatic Wilderness Area.
The riffs and pools of the river provide excellent fish habitat. Sandy beaches on various lakes provide nesting sites for snapping turtles, a listed species-at-risk. Stands of old red spruce, hemlock, white pine, and sugar maple/yellow birch line much of the river and are scattered throughout. Some of the forests is young as a result of past harvesting.
Protection of these lands improves representation of the Tusket River Drumlins natural landscape in the provincial protected areas network.
Silver River is a popular canoeing, kayaking, angling and camping destination. Tripping options range from day-long excursions through the scenic stillwaters in the vicinity of Barrios Lake, to multi-day trips throughout the system. The area is also popular for hunting, boating and off-highway vehicle use. This area has a long tradition of guiding and outdoor recreation.
Many roads through the area are not part of the wilderness area, and remain open for vehicle use. Public access to the river is possible at numerous traditional access points.
If needed, access to a number of private properties can be authorized by the Minister of Environment. Some of these have existing access roads.
Several existing Crown campsite leases will be honoured.
Minor boundary changes were made through the survey process to simplify boundaries.
The Nature Conservancy of Canada (NCC) has acquired lands on the upper Silver River and transferred ownership of a portion to the Province for legal protection. These lands occur in the vicinity of the planned provincial park at New France (Electric City). The Province and NCC have engaged in a public consultation and planning process to guide designation and management of these lands. None of these lands are currently part of Silver River Wilderness Area.