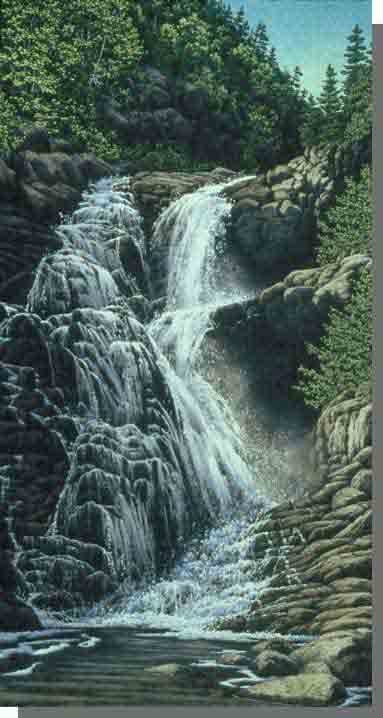 North River Wilderness Area straddles the North River valley, west of St. Anns Harbour, Victoria County. Expanded in 2015, this wilderness area protects 5,016 hectares (12,394 acres) of highland plateau, uplands and rugged river valley.
This area features outstanding examples of geological, fluvial and ecological processes. Mature-old deciduous forest ecosystems are found along the lower valley slopes, together with some hemlock. Pure hemlock stands also occur, such as the "Oregon site" (recognized by the International Biological Program), where tree ages range from regenerating seedlings to mature trees of over 190 years, with individuals reaching ages of over 250 year near the river. High elevation plateau areas support a more boreal forest of balsam fir and spruce, as well as wetlands and ponds.
Salmon in the North River are one of the few healthy and self-sustaining early-run sea winter stocks remaining in Nova Scotia. The river contains gravel spawning beds, deep holding pools, and the cold water conditions required by salmon.
The North River is well known as a regional recreation destination, especially for anglers and hikers.
Foot paths along North River have been used by generations of anglers travelling up and down the river to popular salmon pools. These trails meander beside the river for several kilometres, passing through fascinating river-side habitats and forests. They also provide scenic views of waterfalls, pools, and the steep slopes of the canyon ecosystem.
The well-known North River Falls hiking trail (9 km each way) follows the river valley to the base of North River Falls, which at over 32 metres is reputed to be the highest in the province. Other, less established hiking opportunities are found in the south west of the area, where a day hike to the top of Bald Mountain is rewarded with a stunning view of the surrounding wilderness area and countryside.
Guests at Ski Tuonela, near Goose Cove, can enjoy backcountry skiing within North River Wilderness Area, to the look-off at Bald Mountain.
The expanded wilderness area includes the small, former North River Provincial Park, including the trail head of the North River Falls hiking trail. This trail head is a major access point for angling and hiking and will continue to be maintained for public access and enjoyment.
The wilderness area extends to the western side of the road from Oregon to the highlands (OHV route 814) and can be used to access the wilderness area.
If needed, access to several in-held private properties can be licensed by the Minister of Environment.