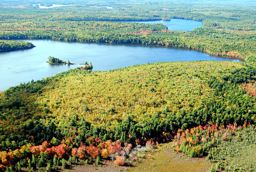 Medway Lakes Wilderness Area is one of Nova Scotia's largest protected areas, and is important for both nature conservation and wilderness recreation.
It protects an exceptional mix of rolling hardwood hills, conifer-dominated flats, wetlands, and numerous lakes and waterways. The size of this wilderness areas helps sustain wildlife that is sensitive to disturbance and forest fragmentation. The diverse and quality habitats support many species at risk, including blandings turtle, snapping turtle, american marten, mainland moose, and several bird species. Impressive stands of old sugar maple, yellow birch, white pine, and hemlock forest are scattered throughout. Parts of the area were harvested in past decades.
By protecting the headwaters of the Medway and Mersey rivers, this wilderness area helps protect water quality for people and aquatic life in two of western Nova Scotia's largest watersheds. Interconnected and remote lakes, rivers, and streams provide a refuge for native brook trout, now in significant decline in southwestern Nova Scotia. The Medway River also retains a remnant Atlantic salmon population. In recent years, community groups have reintroduced salmon within this site.
This wilderness area provides good representation of the Fisher Lake Drumlins natural landscape in the provincial protected areas network, and improves representation of the South Mountain Rolling Plain natural landscape.
Its proximity to other protected areas makes it significant for wildlife movement and ecosystem connectivity across the landscape.
West Branch River Nature Reserve, which was designated as nature reserve in 2008, is now also within Medway Lakes Wilderness Area.
This wilderness area offers exceptional opportunities for recreation and nature tourism in a wilderness setting, such as canoeing, camping, angling, hunting, hiking, cross country skiing and nature education. A variety of canoe routes range from short paddles on individual lakes to challenging white-water conditions or a multi-day traverse of the entire area. Canoe route maps are available from the Municipality of Annapolis. The Province will work with interested partners to develop and promote wilderness recreation opportunities, such as trails and canoe loops
The north-south West Branch Road that bisects the wilderness area is not part of the wilderness area, allowing ongoing vehicle access. East Branch Road follows the eastern boundary of the wilderness area, and also remains open for vehicle use. A forest access road that bisects the wilderness area near Eleven Mile Lake will support forestry access in the region as needed, with limitations on public vehicle access. In addition, NSE intends to authorize snowmobile and ATV use on several connecting routes within the wilderness area through trail management agreements with provincial OHV associations.
If needed, access to in-held private properties can be authorized by the Minister of Environment. Several Crown campsite leases within the wilderness area will be honoured.
In July, 2016, Nova Scotia Environment invited stakeholders to participate in the Advisory Committee for Medway Lakes Wilderness Area. The group is to provide advice, to the Minister of Environment on enhancing the management and protection of Medway Lakes Wilderness Area. Participation includes adjacent land managers; tourism and business interests; environmental, conservation, OHV, and recreation organizations; researchers; and others with an expressed interest in the conservation and responsible use of the wilderness area lands. The advisory committee is expected to complete its work in early 2017.