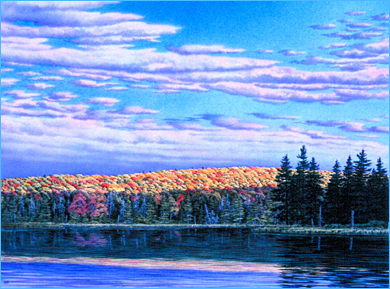 Gully Lake Wilderness Area protects a patch of Cobequid Mountain woodlands in north-central Nova Scotia. Hardwood and mixed forest hills rise to more than 300 metres above sea level, and drain through tributary streams, primarily into Truro's Salmon River. Small flood plains host a rich association of plants and some rarities. Wetlands, seasonal ponds and small lakes add to habitat and scenic variety.
The forest of mature sugar maple, yellow birch and red spruce also supports beech, American ash, red maple and balsam fir, along with some ironwood, black cherry and hemlock. These woodlands provide quality habitat for endangered mainland moose and other species. Plants and animals which prefer large patches of older forest can thrive here. Protection of this area offers a chance to restore some old forest to this part of Nova Scotia.
The open woodlands and a network of cart tracks and old woods roads are suitable for hiking, camping, cross-country skiing, and other low-impact recreation. Winter snow cover in this region is among the best in mainland Nova Scotia.
Located just north of Mt. Thom, off Highway 104, Gully Lake Wilderness Area can easily be reached via Upper Kemptown Road and Glen Road.
Cobequid Eco-trails Society manages the Gully Lake Trail System , with 25 km of hiking trail within the wilderness area and another 10 km on adjacent lands. These trails are popular for hiking, snowshoeing and some other activities. Some of these trails are suitable for backcountry skiing. The trail system can be accessed from Kemptown Road, Glen Road and the Earltown area. Those parts of the trail system within Gully Lake Wilderness Area are managed under an agreement with Nova Scotia Environment. Additional information on the Gully Lake Trail System is available on the website of Cobequid Eco-trails Society.
Other trails within the wilderness area are designated for snowmobile use (10 km) and all-terrain vehicle and bicycle use (7.5 km). These trails are managed by the Snowmobilers Association of Nova Scotia (SANS) and All-terrain Vehicle Association of Nova Scotia (ATVANS) under agreements with Nova Scotia Environment.
Gully Lake, in the heart of the wilderness area, was home to the renowned "Hermit of Gully Lake," Willard Kitchener MacDonald. For nearly 50 years, until his death in 2003/2004, the area was a refuge to Mr. MacDonald.