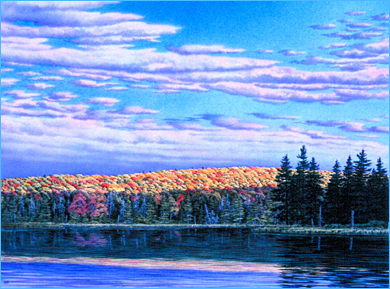 Gully Lake Wilderness Area protects a large patch of north-central Nova Scotia native forest. Hardwood and mixed forest hills rise more than 300 metres above sea level, and drain through tributary streams into Truro's Salmon River. Small flood plains host a rich association of plants and some rarities. Wetlands and small lakes add to habitat and scenic variety.
The 3,810 hectare forest of mature sugar maple, yellow birch and spruce also supports beech, red maple, balsam fir, and some ironwood and hemlock. Plants and animals which prefer large patches of older forest can thrive here. The area offers a chance to restore some old-growth forest to this region of Nova Scotia.
The open woodlands and a network of cart tracks and old woods roads are suitable for hiking, camping, cross-country skiing, and other low-impact recreation. Winter snow cover in this region is among the best in mainland Nova Scotia, allowing for excellent winter recreation.
Located just north of Mt. Thom, off Highway 104, Gully Lake Wilderness Area is a very accessible provincial wilderness area; the boundary extends to the Upper Kemptown Road, which is an all-season route, maintained throughout the year.
Gully Lake, in the heart of the wilderness area, was home to the renowned "Hermit of Gully Lake," Willard Kitchener MacDonald. For nearly 50 years, until his recent death, the area was a refuge to Mr. MacDonald. Gully Lake Wilderness Area is now a refuge for all.