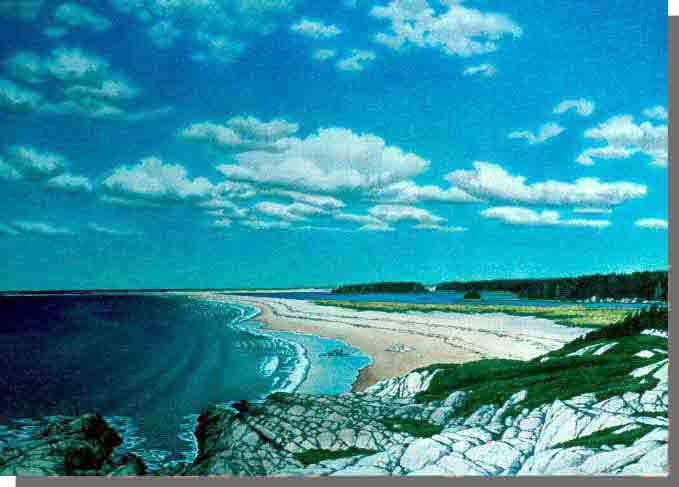 Gabarus Wilderness Area protects 3,800 hectares of exceptional coastal land along the Atlantic shore of Cape Breton Island, including 20 km of ocean shoreline and numerous fresh and brackish-water lakes.
An extensive barrier beach system, with numerous brackish water lagoons and lakes, defines much of the exposed Atlantic shore. Composition of the barrier beaches ranges from cobble to sand, including dune complexes. Elsewhere, most of the shore is strewn with boulders, generally along eroding, low cliffs of glacial till and drumlins (hills formed of glacial debris, or till). This eroding glacial till is the source of material for the barrier beaches.
Studies conducted along the barrier beach system have identified at least 50 species of plants that are restricted to this ecosystem because they are adapted to the rigorous conditions of salt spray and intense sunlight. Their root systems, particularly marram grass, are largely responsible for binding beach sediments together and maintaining and promoting dune growth. A few of the plants which thrive here include beach pea, dusty miller, seabeach sandwort, sea-lungwort, purple angelica, iris, scotch lovage, wild strawberry, and seaside plantain. A provincially-rare fern, commonly called Grape Fern (Botrychium multifidium), occurs here.
Back from the Atlantic shore, one finds a mosaic of bogs, lakes, ponds, slow-moving streams, barrens, and coniferous forest on poorly drained flats and well drained undulating terrain and drumlinoid hills. The uncommon lance-leaved violet (Viola lanceolata) grows in bogs and other wet sites here. A naturally-occurring zone of white spruce forest marks the boundary between coastal and terrestrial ecosystems.
Many mammals, seabirds, and shore birds occur at Gabarus Wilderness Area. Harbour seals and grey seals breed in the coastal zone, with adults, immatures and pups found along the shore in June and July. Mice, snowshoe hares, and red foxes (which den in the sand dunes) make their home here.
Great Cormorants and Double-Crested Cormorants can both be seen from shore. This is where the two ranges of these cormorants overlap. Sugar Loaf Island, visible from Cape Gabarus, is a mixed cormorant colony - one of only five such rookeries in the province. Immature Common Eider Ducks, known locally as "Sea Ducks" feed off of the outer islands and headlands during the fall and winter. Green Island, just off Cape Gabarus, has the most southerly nesting colony of Black-Legged Kittiwakes. Other resident seabirds include Common Terns and Great Black-Backed Gulls. Migratory shorebirds reach the area throughout spring and summer, including Ruddy Turnstones (Seaweed Bird), Black-Bellied Plovers, Short-Billed Dowitchers, Great Blue Herons and Semipalmated Plovers.
With its diverse mix of protected ecosystems and landforms, Gabarus Wilderness Area offers a variety of quality wilderness recreation and wildlife viewing opportunities.
Both the open ocean and more protected Gabarus and Belfry lakes can be explored by kayak or canoe. Special care must be taken when paddling on the ocean – conditions can change quickly. Gabarus Lake currently maintains a popular sport fishery (striped bass, sea trout).
Though no managed trail exists, coastal hiking is exceptional. An unmanaged old road/trail begins at the wilderness area boundary, near the community of Gabarus, at the northwest corner of Harris Lake. It follows the lakeshore and coastline to Gull Cove, providing hiking access along the northern shore and beyond. Hiking along the coast is of easy to moderate difficulty, and can involve extended camping or day trips.
The remains of an abandoned settlement is evident at Gull Cove and other coastal sites, which are recognized by the old fields and meadows (colonized by white spruce), remains of stone walls and evidence of old building foundations. In the late 1800's, more than 3,000 people lived in a thriving fishing community here with three schools, four churches, four stores and five lobster canneries.
Originally designated in 1998, this wilderness area was expanded by 132 hectares in 2015, with the addition of several islands and peninsulas in Gabarus Lake.