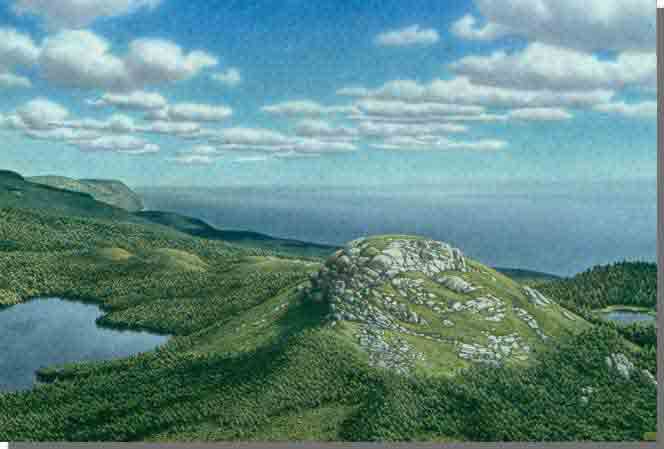 Poised on the eastern edge of the highland plateau above the Cabot Trail, French River Wilderness Area is one of the largest and most rugged protected areas in Nova Scotia.
Its diverse terrain extends from coastal dunes and lagoons on St. Anns Bay to stunted fir forests on the Cape Breton Plateau. In between, across an elevation gain of about 500m, habitats include steep river canyons, hardwood ravines, small remote ponds, plateau lakes, talus slopes, old growth hemlock terraces, and open and treed bogs.
Incised river canyons, especially Barachois River, Indian Brook and French River, provide dramatic contrast to the surrounding highlands.
With other nearby protected lands, French River Wilderness Area contributes to a broad natural corridor that supports wide ranging wildlife species in the region, such as endangered Canada lynx and American marten. The area is also home to many species of uncommon birds and rare arctic/alpine plants. Atlantic salmon still return to some of its rivers every year to spawn.
For those seeking a challenge, the outstanding natural attractions, spectacular views, and sheer ruggedness of this wilderness area make it an ideal destination for extended wilderness hiking and exploration. But be prepared – the terrain can be punishing and there are currently no managed trails.
The wilderness area also offers opportunities for angling, moose hunting, and exploring the shores of St. Anns Bay.
The designation as wilderness area of 686 hectares adjacent to this area near Barachois River will come into effect if new mineral rights are not granted in 2016.