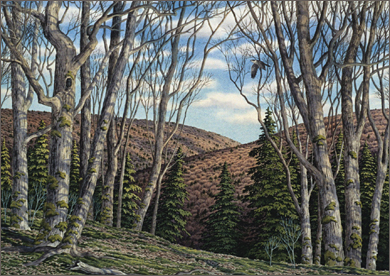 Eigg Mountain-James River Wilderness Area is located in the Pictou-Antigonish Hills, about 10 km northwest of the town of Antigonish. Expanded in 2015, this wilderness area now protects 7,645 hectares (18,890 acres) of exceptional upland woodlands.
The upland, rolling hills are dissected by steep ravines and gullies typical of the Pictou-Antigonish Hills Natural Landscape. With its combination of well-drained tolerant hardwood forests, mixed forest canyons, rich forested flood plains and productive wetlands, this wilderness area protects the largest remaining area of contiguous forest in northeastern Nova Scotia.
The relatively undisturbed woodlands support a diversity of ecosystems, plants and animals. Habitat is suitable for species like goshawk and endangered mainland moose. Atlantic salmon spawn in the headwaters of several rivers within the wilderness area.
Almost all of the Town of Antigonish's James River drinking water supply area is now within the wilderness area. A substantial part of this catchment is owned by the Town of Antigonish. Most of this (1,361 hectares) was designated as wilderness area in 2007, at the Town's request. This legal protection of the Town's lands as wilderness area supports the Town's efforts to protect its drinking water supply area.
Wilderness recreation enthusiasts will find numerous opportunities for day-use or extended back-country travel in this highly scenic setting. Hiking, cross-country skiing, bird watching and nature viewing are just some of the activities to be pursued. Various portions are suitable for hunting and trapping. Mountain biking is promoted on adjacent roads and could be authorized on some routes within the wilderness area.
Major forest access roads, also used for snowmobile and ATV riding, are not within the wilderness area and remain open for use. These provide access to the wilderness area from surrounding communities such as Marshy Hope, Pleasant Valley and Ardness.
Several off-highway vehicle (OHV) routes are managed by the Snowmobilers Association of Nova Scotia (SANS) and All-terrain Vehicle Association of Nova Scotia (ATVANS) under agreements with Nova Scotia Environment. This includes a section of route 715A and several routes in the northeastern portion of the wilderness area.
The wilderness area includes one campsite lease.