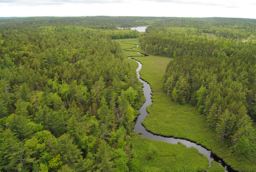 Cloud Lake Wilderness Area is located south of Greenwood, near the Kings-Annapolis County line. Expanded in 2015, this wilderness area protects 15,802 hectares (39,046 acres) of woodland, lakes and river within Nova Scotia's South Mountain Rolling Plain natural landscape.
This landscape is an expansive granite bedrock, upland region characterized by a variety of forested landforms, glacial deposits, large scattered lakes, steep-sided streams and wetlands. Cloud Lake Wilderness Area features many of these elements, including excellent examples of kettle, esker, and bedrock-controlled lake, river and stream landforms.
The wilderness area spans parts of the LaHave and Nictaux river watersheds. Interconnected lakes are picturesque and varied, with sheltered inlets and scenic islands. Eskers along some of the waterways afford excellent routes for backcountry hiking and camping. Fens occur throughout.
Forest cover is a mosaic of mixed wood and deciduous hills, mature coniferous forest, comprised of red spruce, red and white pine, yellow birch, red and sugar maple and other species. Several rare species occur, including eastern white cedar, a provincially listed "vulnerable" species.
Much of the wilderness area is valued for outdoor recreation. The lands help protect the wilderness character of popular canoe routes which are promoted by the Municipality of the County of Annapolis. These include the Nictaux River, Shell Camp Stream, Upper LaHave River and the Cloud Lake – Frog Lake area. The western boundary extends to a section of the South Shore – Annapolis Rail Trail. Sport fishing is popular within this wilderness area, and some hunting occurs.
Access roads to Cloud Lake and Frog Lake are excluded from the wilderness area, allowing for ongoing vehicle access to these lakes. Other access points include the South Shore - Annapolis Valley Rail Trail and Squirreltown Road, both near Highway 10. Extensive snowmobile and ATV trail networks south of the wilderness area are unaffected, as confirmed with provincial ATV and snowmobile organizations.
If needed, access to a number of in-held private properties can be licensed by the Minister of Environment.