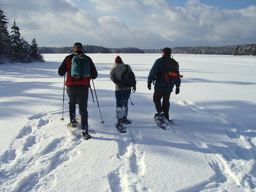 Blue Mountain - Birch Cove Lakes is a high-profile near-urban wilderness area on the edge of Halifax. An addition in 2015 expands the area from 1,316 to 1,767 hectares, or about the size of Halifax Peninsula.
This wilderness area protects an important, intact, forested habitat patch in the midst of a fragmented suburban landscape. It includes forests, barrens and interconnected lakes and wetlands. It protects valued wildlife habitat and a range of exceptional wilderness recreation opportunities, all within minutes of Atlantic Canada's largest urban centre.
This includes parts of a traditional backcountry canoe route between Cox Lake and Nine Mile River; and a major part of the loop that begins and ends at Birch Cove Lakes. These waterways are also popular for sport fishing. Portions of the wilderness area may be suitable for hunting.
Several non-government organizations are currently leading a hiking trail planning process for the northeastern end of the wilderness area, near Maskwa Aquatic Club, with support from Nova Scotia Environment.
Mountain bike use on designated trails could be authorized by Nova Scotia Environment under an agreement with a mountain bike group or other trail organization.
The proposed Highway 113 corridor and an additional 30 meter buffer along either side is not included within the wilderness area.
Several sections of power line right-of-way cross this wilderness area. Under a license with Nova Scotia Environment, Nova Scotia Power Inc. (NSPI) can continue to maintain and operate these power lines, subject to certain conditions.
More Information