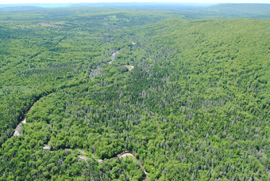 This scenic area encompasses two steep-sided branches of the Baddeck River, a wetland complex near Bell Lakes, plus some productive lowland and floodplains downstream. It includes over 35 km of river, primarily winding along hardwood slopes. The area also provides a wildlife corridor between the lowlands and the plateau, and habitat for endangered American marten and lynx. The Baddeck River system as an important watershed for brook trout and Atlantic Salmon. A portion of this area borders Usige Ban Falls Provincial Park, just above the falls.
This scenic and rugged area offers opportunities for wilderness travel and trail development, as well as sport fishing in Baddeck River and the adjacent Bell Lakes. Portions of the area are suitable for hunting and trapping.
Off-highway vehicle use on Route 710, next to North River Wilderness Area, is to be accommodated through one or more trail management agreements.
The final boundary has been adjusted slightly along New Glen Brook to remove a tree plantation and add intact hardwood forest on a steep slope. The boundary along the lower reaches of the main branch of Baddeck River has been adjusted to the edge of a road for survey efficiency and to simplify management.