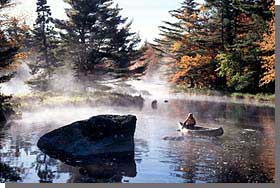 The 53km long Shelburne River was designated in 1997, in recognition of its outstanding natural and recreational values. From its source at Buckshot Lake, this wilderness river passes extensive granite semi- barrens, esker systems, and stands of old-growth pine and hemlock, before draining into Lake Rossignol in central, southwestern Nova Scotia. The river is an integral part of a traditional travel route of First Nations people, connecting the Atlantic and Fundy coasts via the Mersey and Sissiboo river systems. The Shelburne's remoteness and challenging array of moving water, shallow lakes and stillwaters make this river a premiere destination for wilderness canoeists.
Much of the Shelburne's remote 27,739 hectare watershed is within the Tobeatic Wilderness Area. Partners in managing the heritage river include Kejimkujik National Park, Nova Scotia Power and Bowater Mersey Paper Company.The Shelburne River Management Plan was drafted by all partners to guide management of the river, and has led to a successful water quantity and quality monitoring program.
More information on the Shelburne River, including a map, is available at the Canadian Heritage Rivers System website.
Shelburne Heritage River - Poster.
Other Information