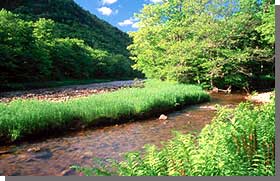 The 120km long Margaree-Lake Ainslie System drains a watershed of nearly 120,000 hectares, from the plateau of the Cape Breton Highlands, to rich forested floodplains and farmland and, finally, the Gulf of St. Lawrence.
The Southwest Margaree originates at the largest natural lake in Nova Scotia - Lake Ainslie, and merges with the swifter Northeast Margaree at Margaree Forks. Both branches are renowned for their natural beauty and deep salmon pools. The icy clear waters of the upper reaches of the river system provide excellent spawning areas for Atlantic salmon and trout. Publicly owned portions of river system's headwaters include Sugarloaf Mountain, Trout Brook and Margaree River Wilderness Areas, and a portion of Jim Campbells Barren Wilderness Area. Downstream, fertile farms, weirs and villages rich in Acadian and Scottish heritage are framed by scenic hardwood ridges and slopes. The Margaree calls out to fishermen and outdoor adventurers to explore its secrets.
The river system was designated in 1998, following a comprehensive community consultation process which culminated in publication of Margaree-Lake Ainslie Canadian Heritage River - Partnership Strategy. This strategy, which serves as the management document for the Margaree-Lake Ainslie Heritage River, is being implemented by the newly formed Margaree-Lake Ainslie Canadian Heritage River Society, in cooperation with the Nova Scotia Environment and Labour.
More information on the Margaree-Lake Ainslie Heritage River, including a map, is available at the Canadian Heritage Rivers System website.
Other Information