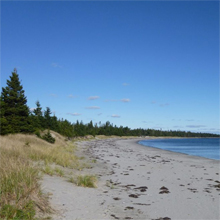 Nova Scotia is Canada's Ocean Playground. With hundreds of miles of coastline, our province has some of the most beautiful beaches in Canada. In addition, our many lakes, rivers and streams provide great opportunities for swimming during the summer months.
The Environmental Health Division is primarily concerned with bacteria levels and blue-green algae, and their potential to impact the health of swimmers.
Beach Monitoring in Nova Scotia
The Nova Scotia Lifeguard Service provides supervision and bacteriological water sampling for more than 20 beaches across the province. The Environmental Health Division assists with the interpretation of sample results and takes action with the Regional Medical Officer of Health to ensure swimmers are protected from water that has bacteria levels higher than those indicated in the Canadian Guidelines for Recreational Water Quality.
To view the latest conditions of a beach near you, go to Nova Scotia Lifeguard Service website.
Who tests the water at beaches in Nova Scotia?
The Nova Scotia Lifeguard Service is contracted by the Department of Health & Wellness to provide supervision of beaches across the province. They conduct weekly testing of the water at all supervised beaches to ensure the water is meeting national guidelines for recreational water quality.
Are all beaches tested?
No. Only beaches supervised by a trained lifeguard are tested. For a complete listing of lifeguarded beaches, please visit www.nsls.ca
What causes a beach to be closed by the Department of Environment?
When bacteria are present in samples at levels higher than national guidelines for recreational water quality, beaches are closed to swimmers. Only when testing shows that bacteria levels meet national guidelines are beaches re-opened to swimmers.
What bacteria are present?
The water is tested to detect the presence of e.coli bacteria in fresh water or enterococci bacteria in salt water. The presence of either bacteria in recreational waters above acceptable guidelines indicates that fecal matter is present and if swallowed may cause illness.
Can I swim at a beach that is closed?
We recommend that you don't. Beaches are not typically supervised during a closure and the presence of bacteria in the water at higher than acceptable levels could result in illness if water is swallowed during swimming or splashing.
I swam at a beach that is now closed, will I get sick?
The primary risk associated with swimming at a beach with high levels of bacteria is infection from swallowing water containing bacteria. If you swam at a beach that was recently closed due to high bacteria levels, it is possible you may become ill.
What are the symptoms I should expect? What should I do if I have symptoms?
Symptoms may include diarrhea, vomiting, fever, abdominal cramps or other symptoms such as ear, eye or skin irritation. Most people recover but if your symptoms are severe or unusual you should seek attention from a health professional.
The beach I use has never been closed before, why is there a problem now?
It is normal to find e.coli and enterococci bacteria in surface water. Such water is prone to human and animal interactions that introduce bacteria and parasites. For this reason untreated surface water should never be ingested.
Weather conditions, rainfall, tidal action and other factors also influence water quality. Finally, sampling frequency will determine the likelihood of detecting bacteria. The detection of bacteria now does not mean there has never been bacteria present at the beach before, just not in numbers high enough to cause illness. While not common, it is not unusual for any beach to experience higher than acceptable bacteria levels given certain conditions.