The Government of Nova Scotia has added 23 areas of Crown land to nine wilderness areas, following public notice and consultation in 2011. Public comment was generally very positive.
These wilderness area additions, with a total of 5,000 hectares (12,350 acres), were acquired between 2007 and 2011 from individual landowners, forestry companies, and the Nature Conservancy of Canada.
The additions are located in Halifax, Guysborough, Queens, Shelburne, Yarmouth, Digby and Annapolis counties. Locations are illustrated on maps of western

(PDF:254k) and central

(PDF:267k) Nova Scotia.
More detailed information on each addition is available here.
These 23 additions will help protect our wilderness areas and ensure better opportunities for public use and enjoyment. Many eliminate land in-holdings, while others will add important adjacent lands and features. We are protecting rare species, mature and old forests, numerous wetlands, 48 km of lake shore, and 14 km of river.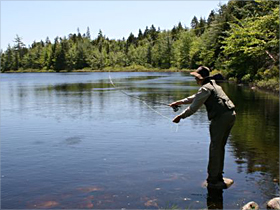 Adding these 23 areas of Crown land to the nine wilderness areas also moves us 0.1% closer to our goal of legally protecting 12 per cent of Nova Scotia's landmass by 2015.
Information and maps for each proposed addition are available for viewing from this table.
Additional information on wilderness areas is available here.