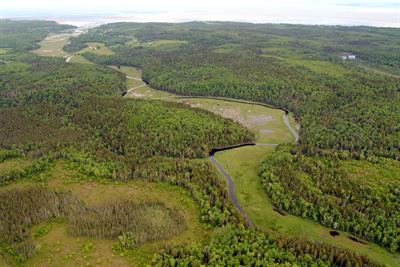 Walton River Wilderness Area protects a forested corridor that straddles most of the length of Walton River, a tidally influenced waterway that drains into Minas Basin at Walton, Hants County.
The low gradient, meandering river drops just 30 m along its 20 km length. Much of the upper part of the river flows between steep, clay banks. Forested floodplains, oxbow channels, shrub swamps, and treed bogs are more common in the lower river corridor. These habitats provide a refuge for nationally threatened wood turtle. The river supports a small population of sea run trout as well as eels.
Undisturbed riparian saltmarshes and salt springs occur near the mouth of the river, where the world's highest tides play an important role in the site's ecology.
Drier, upland portions of this site support diverse forest communities, dominated by red maple, red and black spruce, tamarack, aspen, white and red pine, and red oak. Parts of the area were logged in recent years and are gradually reverting to forest.
Establishing this wilderness area helps fill a gap in the provincial protected areas network by protecting a portion of the Walton River Clay Plain natural landscape, with many representative elements of this landscape.
Though not well known as an angling destination, the river offers some opportunities for angling in a wilderness setting. It also appears to be suitable for canoeing at moderate to high water levels.
One campsite lease is located along the river, near the eastern end of the wilderness area.