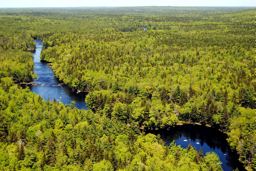 This area consists of four parcels along the middle reaches of the Tusket River system, both on the main river and feeder lakes. Over 20 km of undeveloped river and lake frontage is included.
The lake shores and riverbanks are hotspots for a nationally significant plant community known as Atlantic coastal plain flora. Over a dozen species of at-risk plants occur on these shorelines, including the nationally endangered pink coreopsis and Plymouth gentian.
These lands form a partial corridor along the river, helping to facilitate wildlife movement and maintain the scenic value of this popular, traditional canoe route, which includes 12 km on the main Tusket River. The area is also suitable for hunting, sport-fishing and trapping.
Protection of these lands complements long-running private-land conservation efforts in the area by the Nature Conservancy of Canada, Nova Scotia Nature Trust, and Tusket River Environmental Protection Association.
A number of roads are excluded to allow ongoing vehicle use, including: Coldstream Road, Shunacadie Road, a forest access road between Coldstream Road and East Kempt, and a spur road to Bad Falls. Louis Lake and access to the lake are outside the boundary. No major off-highway vehicle routes are affected, nor is access to camps or campsite leases in the area.