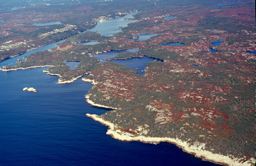 Terence Bay Wilderness Area is a rugged, 4,507 hectare (11,137 acre), coastal and near-coastal wilderness within a rapidly urbanizing portion of Halifax Regional Municipality. Together with the adjacent Long Lake Provincial Park, it forms a nearly 20 km natural corridor between Spryfield (Halifax) and the Atlantic Ocean. Its lakes, woodlands and coastal environment offer outstanding opportunities for wilderness recreation in a near-urban setting.
Much of Terence Bay Wilderness Area is typical of Nova Scotia's Pennant Coastal Barrens Natural Landscape, which extends from Peggy's Cove to Halifax Harbour. Its coastal character is defined by dramatic granite headlands, rugged barrens and patches of conifer forest. The rugged, granite-controlled terrain extends inland, but is here much better and consistently forested with mixtures of spruce, fir, maple, birch and some white pine. Sparkling lakes and streams are common throughout.
Climate is tempered by the Atlantic Ocean, which moderates summer temperatures and can generate windy or moody, foggy conditions.
The dramatic coastal environment offers exciting coastal kayaking and other boating, extending well beyond the wilderness area in multiple directions. Hiking opportunities are outstanding along the coast and elsewhere, though formal trails do not exist. Angling, hunting and other recreational pursuits have long been popular throughout.
Latest update
Winter 2010 - Vehicle Access in Terence Bay Wilderness Area

(PDF:751k).