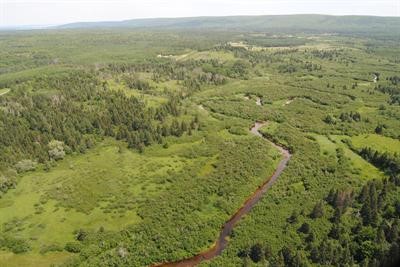 River Denys Nature Reserve consists of five separate lowland parcels in the biologically rich Bras d'Or Lake Plain natural landscape in western Cape Breton. Each parcel contains important riparian (riverside) habitat and adjacent woodlands along River Denys or one of its tributaries.
Rich floodplains and woodlands along the river provide habitat for wood turtle, a nationally listed species at risk. Protection of these habitats also helps conserve brook trout and other aquatic species. Gypsum which underlies parts of the reserve has created alkaline conditions that support rare plant communities.
River Denys and its tributaries are not included within the nature reserve. Sport fishing is not affected by the designation.
A 39-hectare portion of the reserve was acquired by the Province from NewPage / Port Hawkesbury Paper between 2010 and 2012. The company had administratively dedicated these lands to protection through their private land protected areas program.
A 45-hectare portion of the reserve was transferred to the Province for protection by Georgia-Pacific Canada Inc. in 2016 to meet an environmental assessment condition from its Melford mine approval.