Tank Registration
The Nova Scotia Petroleum Management Regulations require all regulated petroleum storage tanks to be registered with the Department.
For a new tank installation you are required to submit a Petroleum Storage Tank Notification form

(PDF:148k) at least three working days prior to the starting date of the installation.
Once the tank installation is complete a Petroleum Storage Tank Installation/Removal/Alteration Application form

(PDF:159k) must be submitted to the Department by a certified petroleum installer. This form must be submitted within 30 days of the installation.
Tanks that were installed prior to 1995* are subject to the registration requirements of the regulations. Tanks that were not previously registered with the Department, at the time of installation, can be registered by submitting a Petroleum Storage Tank Registration/Transfer Application

(PDF:159k).
Once a tank(s) is registered the Department will issue a tank registration number for each storage tank in the storage tank system and a Tank Tag invoice will be issued.
Transfer of Ownership
The person responsible for a storage tank system must notify the Department within 30 days following the transfer or sale by submitting a completed Petroleum Storage Tank Registration / Transfer Application form.
Application forms are to be submitted to the nearest Environmental Monitoring and Compliance (EMC) district office.
Submission of Form and more Information on Tank Registration
To submit an application form or to find out more about petroleum storage registration please contact Nova Scotia Environment's EMC Division.
Tank Tagging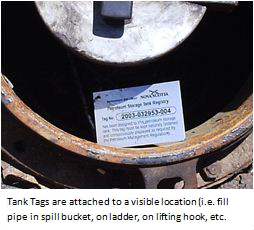 NS Petroleum Management Regulations require all registered tanks to be affixed with a tank tag.
The tank tagging program began in 2003/2004 focusing initially on Gasoline Stations, Bulk Plants and Commercial Sites. The tagging of all public sector tanks is now underway and will be followed by marinas.
Note: Effective November 15, 2005, no person shall deliver fuel to a motive fuel site which has not been issued a tank tag or temporary authorization.
Tank Tagging Process and Annual Fee
Once a petroleum storage tank is registered the Department will send out an invoice to the owner of the tank(s). Once the payment has been received, the tags will be produced and an Environment Inspector will conduct a site visit to attach the tag.
An annual tag tagging fee is required. The current annual fee cost structure can be found in the NS Environment Fee Regulations. If the owner has obtained third party public liability insurance coverage for their storage tanks system and submits proof of insurance coverage for the storage tanks, the tank fee will be reduced by 50%.
Certificate of Registration
The Department will issue a Certificate of Registration to the owner when the tank is initially tagged. An updated certificate will be issued annually by the Department once the applicable renewal fee has been paid.
Note:
The Petroleum Management Regulations contain specific requirements regarding underground petroleum storage tanks including tank service life and removal requirements.
The tank tagging program does not include farm or residential tanks.