A domestic tank system isn't just limited to the tank. It also includes a variety of mechanical components that are essential for a tank system to operate properly and safely. This section provides an overview of what all the key components of a system involves and what each component is designed to do.
Oil Level Tank Gauges
This device is designed to indicate the level of fuel in a tank at any given time. Oil level gauges typically have a levered arm that extends into the tank The arm has a cork float on the end which rides on the surface of the oil which in turn causes the visible gauge level marker to move. The gauge has a glass or plastic covered viewing area at the top which is susceptible to damage if not protected.
Vent Whistles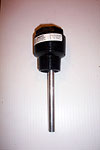 This device is designed to provide a warning to the person filling the tank that the fuel level is approaching the top of the tank. The warning is in the form of a whistling sound that can be heard during filling which increases in pitch and then stops as the oil rises to the top of the tank. Usually located at top of tank at the base of vent pipe.
Shut-Off Valve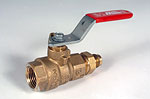 This device is designed to allow a person to manually shut off the flow of oil from the tank.
Product Supply Line
Copper product lines are the most common type of product supply line although other types are available. A common type used in industry today comes with a polyethylene coating. In the event of a line failure, the coating features special grooves that assist in containment and leak detection. Typically either 1/2" or 3/8" diameter.
Furnace Filters
These devices are designed to filter and trap contaminants and/or water before they reach the oil burner. These devices must be checked and cleaned on a regular basis. Filters are available for various particle sizes – course, fine. Some are specifically designed to capture water entrained in the oil.
Firematic Valve (Fusible Link)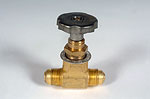 This valve is designed to automatically close oil supply lines in case of fire. It includes a spring and replaceable fusible element which melts at 78.3 °C (165°F) allowing the valve to close tightly.
Oil Safety Valve (Fuel Safety Valve) / Anti-siphon valve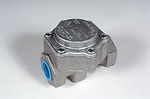 These valves are designed to automatically shut-off the flow of oil from a tank in case the line between the valve and the burner is broken. This prevents fuel from siphoning out of the tank.
Note: The Province of Nova Scotia does not endorse any product or manufacturer. In no event will the Province of Nova Scotia be held liable for damages, including loss of profits or consequential damages arising from information provided or accessed from this site