This site provides access to hourly measurements of ambient (outdoor) air pollutants in Nova Scotia such as
ground-level ozone (O3)
fine particulate matter (PM2.5)
carbon monoxide (CO)
nitrogen dioxide (NO2) and
sulphur dioxide (SO2)
Ambient Air Quality Information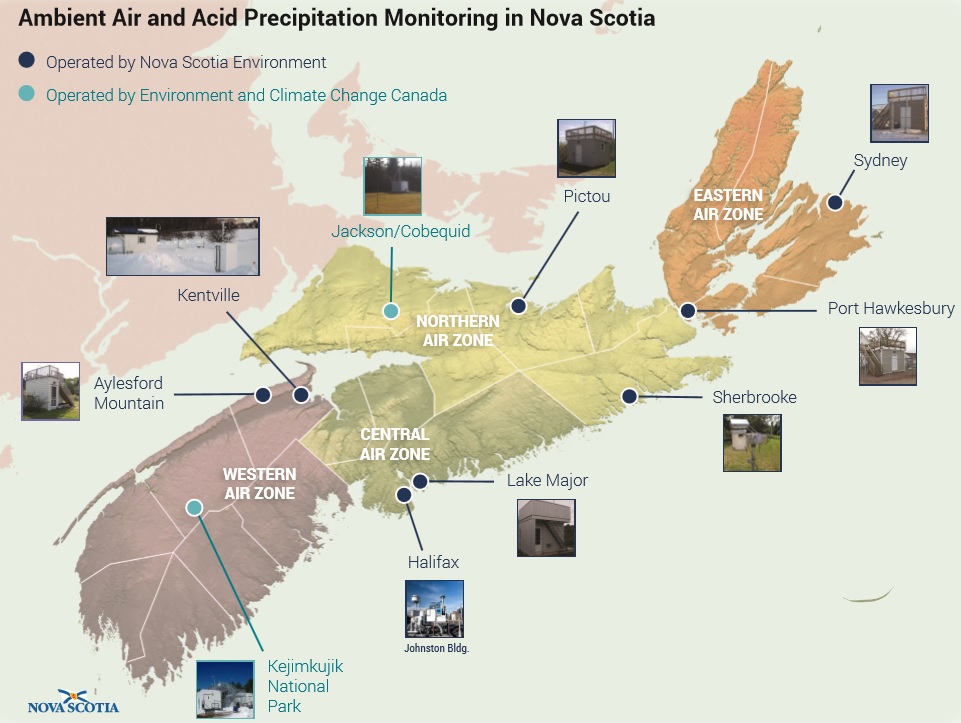 This website provides information from Nova Scotia Environment's monitoring stations and includes the latest measurements and historical data going back to 1994.
Note: The most recent measurements have not yet been validated. The Data Validation Table identifies which data sets have been validated. All data are reported in Atlantic Standard Time (AST). Validated data sets are also available through the National Air Pollution Surveillance (NAPS) Network.
Ambient air monitoring stations measure the quality of outdoor air and air pollution emissions from many sources, such as industrial facilities (electrical power plants, pulp and paper mills), vehicles, natural sources (such as forest fires and trees), and emissions generated in Nova Scotia and in neighbouring provinces and states.
This information is compared against Maximum Permissible Ground Level Concentrations in the Nova Scotia Air Quality Regulations (N.S. Reg. 28/2005), and the Canadian Ambient Air Quality Standards (CAAQS), which replaced the Canada-wide Standards for Particulate Matter (PM) and Ozone in 2015.
Provincial ambiant air quality monitoring stations are located in:
Aylesford Mountain
Halifax
Lake Major
Pictou
Port Hawkesbury
Sydney
Air Quality Health Index (AQHI)
The latest measurements of PM2.5, O3, and NO2 are used to report the Air Quality Health Index (AQHI) which is available on Environment Canada's Air Quality Health Index website. Environment Canada updates the current AQHI each hour and provides forecasted maximum values twice daily. The AQHI is a public information tool available to assist individuals in making short-term decisions about adjusting their activities to limit exposure to air pollution. The AQHI is based on raw data which has not been validated, so it is not used to determine trends or for other detailed analysis of ambient air quality.
Data on Volatile Organic Compounds
Volatile organic compounds (VOC) are sampled in Halifax and Granton. VOC data are available from the National Air Pollution Surveillance (NAPS) Network. Acid precipitation samples are collected in Sherbrooke and Jackson. Acid precipitation data are available from the National Atmospheric Chemistry Database (NAtChem).
Contact
Nova Scotia Environment
Air Quality Unit, Sustainability and Applied Science Division
Tel: 902-424-3600
Email: air@novascotia.ca