Select real Nova Scotia Christmas trees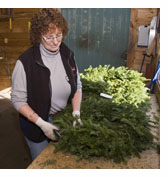 Growers combine skill and tradition to produce quality Christmas trees and wreaths. The industry provides millions of dollars to the local economy.


Our climate is ideal for growing Christmas trees. Christmas tree lots provide habitat for wildlife and recreational areas for people.

Real trees, grown in naturally regenerated lots are never clearcut. Mature trees provide seedlings to replace harvested trees.


Each year artificial trees are imported and require large amounts of energy to manufacture. Real Christmas trees are natural forest products grown with energy from the sun.


After Christmas, a real tree can become a backyard bird feeder, potpourri or garden mulch. Real Christmas trees are biodegradable, nearly carbon neutral, and recyclable.


Locally grown Christmas trees...the natural choice.

Selecting your Christmas tree ...
Once you have your tree home...
After the holidays ...
Christmas Tree Council of Nova Scotia