Now that you have your Christmas Tree home!
You've selected the perfect tree. Now comes the fun part....decorating the tree that holiday memories are made of.
Take a Stand . Select a quality Christmas tree stand that is sturdy and holds a minimum of 4 litres (1 gal.) of water. Prior to use the stand should be rinsed with a capful of bleach and some water to reduce the growth of microorganisms.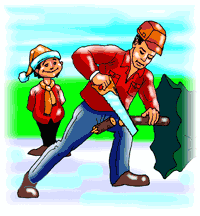 Make a Fresh Cut. Care for your tree like you would fresh cut flowers. Cut at least 5 cm (2 in.) off the base of the trunk to permit easy water absorption.
Water Daily Throughout the Holidays . The average tree will consume up to 4 litres of water per day.
Location. Place the tree away from heat sources such as radiators, heat vents, fireplaces, wood stoves, or television sets. Do not block doorways or exits.
Decorations. Use only CSA approved lighting sets.
Mini-lights are energy efficient and produce minimal heat.
Check wires, plugs and sockets every year. Discard rather than repair. Use a receptacle located away from the tree for unplugging convenience and minimize the use of extension cords.
Turn lights off at bedtime and when no one is present in the room. Never use outdoor light sets indoors.
Please, NEVER use candles on a tree.
Safety. When purchasing decorations check flame retardant ratings. Natural products that cannot absorb water such as wreaths and garlands are recommended for outside use only. With all the activity and visitors that will be in your house this season, make sure your smoke alarms and fire extinguisher are working.