Provincial Municipal Fiscal Review
In 2009, the Nova Scotia Provincial Government made a commitment to review the provincial Equalization Program. Based on the findings from the internal review, it was determined that the Equalization Program could not be reviewed in isolation. As a result, a comprehensive review of the fiscal relationship between municipalities and the Province of Nova Scotia was recommended in order to determine where support from the province would be best allocated to meet the needs of municipalities.
There have been previous reviews of the relationship between municipalities and the province including the Graham Commission (1974), Service Exchange (1995), and Roles and Responsibilities (2000). Ten years have passed since the last official fiscal review.
In November 2010 the Provincial Municipal Fiscal Review was announced, led by a Steering Committee of elected municipal officials and Deputy Ministers from key provincial departments. The Steering Committee is supported by a Working Group composed of senior staff from the Association of Municipal Administrators of Nova Scotia (AMANS), the Union of Nova Scotia Municipalities (UNSM), and staff from the Department of Municipal Affairs. Four subcommittees have been established to explore regulatory expenditure pressures, alternative revenue options, responsibilities for roads, and non-financial supports.
Provincial Municipal Fiscal Review Structure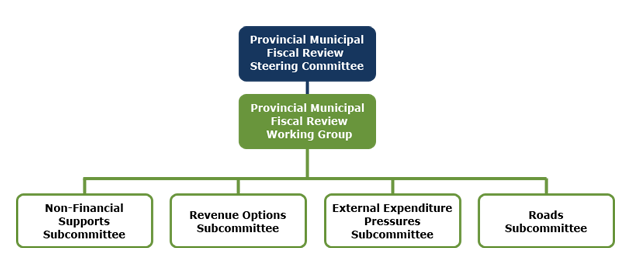 Reports