Nova Scotia Home to Canadian Red Cross Volunteer Training Centre of Excellence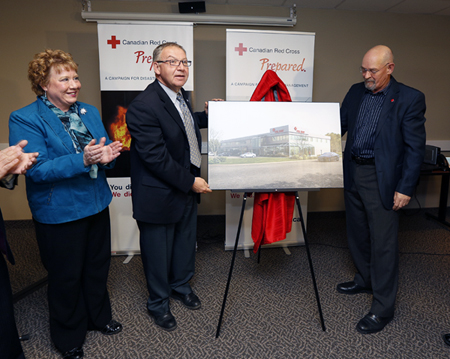 Volunteers in Nova Scotia will soon have access to the best training facilities in the country to learn how to better prepare for, and respond to, disasters.
The province is supporting the Canadian Red Cross with $800,000 for its Prepared campaign, including construction of a new Centre of Excellence in Disaster Management, Premier Darrell Dexter announced today, March 13.
The advanced training facility will be the first of its kind in Canada, built as an addition to the Red Cross's existing service centre in Dartmouth.
"Families and communities need to know that they can count on the support of highly trained volunteers when hurricanes, floods, fires or other disasters strike," said Premier Dexter. "The province is proud to be working with the Canadian Red Cross and our partners in the private sector to provide better training for volunteers and expand Nova Scotia's disaster management capabilities.
"This Centre of Excellence will make Nova Scotia a leader in providing expert training for volunteers across the country and that is something we can all be proud of."
Expert facilitators will use distance education to train roughly 1,500 volunteers here in Nova Scotia, as well as volunteers from across Canada. These training sessions will also allow for the exchange of expertise with international partners.
"I have enormous respect for our volunteers and the work they are doing to make life better in this province," said Denise Peterson-Rafuse, Minister of Community Services. "This investment will help build the capacity of our volunteer sector and increase people's confidence in the Nova Scotia branch of the Red Cross to deliver expert assistance swiftly and efficiently, when it's needed most."
Disaster response needs to be swift and effective in order to ensure public safety. Strengthening the capabilities of the Red Cross is critical in achieving this goal.
"The Canadian Red Cross has been working in close co-operation with the province in helping people prepare for and respond to disasters for almost a century," said John Byrne, national director general of disaster management with the Canadian Red Cross. "The additional capacity we will gain from this investment announced today will ensure our disaster volunteers throughout the province, and across the Atlantic region and entire country, have access to modern, cost-effective training and other resources to help keep people safe."
To date, individuals, businesses and organizations across Nova Scotia have raised more than $2.15 million for the Prepared campaign. The goal is to raise $3 million.
For more information on the Prepared campaign, or other programs available through the Nova Scotia branch of the Canadian Red Cross, call 902-424-1433 or visit www.redcross.ca/article.asp?id=6420&tid=065 .