Improving Services for Vulnerable Youth
March 14, 2012 10:15 AM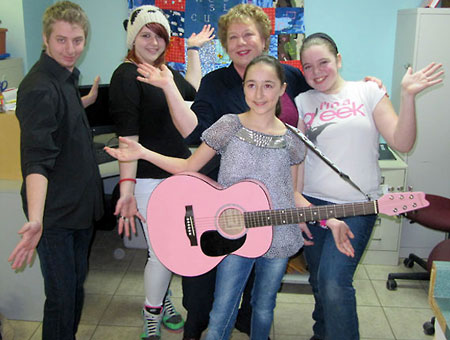 Minsiter Peterson-Rafuse celebrates with young people in Truro

Vulnerable youth will soon have more support to stay in school, find jobs, get involved in the community and get help with family problems thanks to a $614,000 investment by the province.
The funding, a partnership between the departments of Community Services, Education, Health and Wellness and Justice, was announced in Truro, today, March 14, by Community Services Minister Denise Peterson-Rafuse.
"I'm excited to launch this program that finally addresses the gap in services for this age group of 16-to-early 20-year-olds," said Ms. Peterson-Rafuse. "We are making life better for families by adding to a wide range of services that are already available for vulnerable youth."
Community organizations across Nova Scotia will hire 10 new outreach workers to support the age group with a wide range of services.
"These young people have a variety of needs and this will focus existing community resources to support them in making better decisions and achieving their potential," said Ms. Peterson-Rafuse.
Melissa Rogers, Native Social Counselling Agency, is looking forward to hiring a youth outreach worker who will work in Aboriginal communities across Nova Scotia.
"An outreach worker for our community will enable us to reach out to a new age group. We want to help our teens connect with services to overcome the barriers they are facing. This program will be an asset for our organization and community."
Community-based organizations will assist in delivering the new program. They are:
Family Services of Eastern Nova Scotia, Sydney and Port Hawkesbury
Canadian Mental Health Association and Native Council of Nova Scotia, Truro
Big Brothers Big Sisters of Pictou County, New Glasgow
Phoenix Youth Programs, Halifax
Valley Refuge Association, Kentville
SHYFT Youth Services, Yarmouth
The 2006 Nunn Commission Report recommended that government direct more resources toward cross-department collaboration and community partnerships to ensure that youth who are at-risk get and stay on the right track. The province's Child and Youth Strategy was a key recommendation of the Nunn Report.
Part of the strategy's early success is from collaboration between government departments responsible for its implementation. Education, Health and Wellness, Justice and Community Services are all working together to ensure the right programs and services are accessible to all Nova Scotians.
As part of this effort, the strategy organizes the Leaders of Today Summit to connect government directly with young people.
"This government is committed to hearing from our youth. They can tell us what they think directly," said Ms. Peterson-Rafuse.
This program is part of the province's larger effort to support youth who are at risk. Other efforts include supporting youth-focused Phoenix House and Empire House, developing a Follow Up Next Day Service to assist with parent-child problems, offering SchoolsPlus to make services more accessible and providing career training and educational support for former youth-in-care.