Child Welfare in Nova Scotia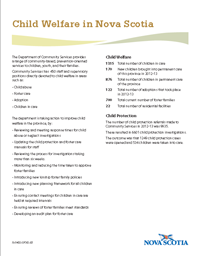 The Department of Community Services provides a range of community-based, prevention-oriented services to children, youth, and their families.
Community Services has 450 staff and supervisory positions directly devoted to child welfare in areas such as:
Child abuse
Foster care
Adoption
Children in care
The department is taking action to improve child welfare in the province, by:
Reviewing and meeting response times for child abuse or neglect investigations
Updating the child protection and foster care manuals for staff
Reviewing the process for investigations taking more than six weeks.
Monitoring and reducing the time taken to approve foster families
Introducing new kinship foster family policies
Introducing new planning framework for all children in care
Ensuring contact meetings for children in care are held at required intervals
Ensuring reviews of foster families meet standards
Developing an audit plan for foster care
Child Welfare
| | |
| --- | --- |
| 1315 | Total number of children in care |
| 170 | New children brought into permanent care of this province in 2012-13 |
| 876 | Total number of children in permanent care of the province |
| 122 | Total number of adoptions that took place in 2012-13 |
| 700 | Total current number of foster families |
| 22 | Total number of residential facilities |
Child Protection
The number of child protection referrals made to Community Services in 2012-13 was 9935.
These resulted in 6601 child protection investigations.
The outcome was that 1249 child protection cases were opened and 534 children were taken into care.